Alex Bregman shot a walk-off single into left field off Dodgers closer Kenley Jansen in the 10th inning to score pinch-runner Derek Fisher from second base and put an end to the second-longest World Series game in history, sending the Astros to a dramatic 13-12 victory on a Sunday night that drifted into Monday morning at Minute Maid Park.
• Gear up for the World Series: Astros | Dodgers
"I was … so happy just to help this team win," Bregman said. "I got him on a slider last night, so I knew he wasn't going to throw that. Got him on a cutter. Correa, all our hitting coaches, they said, 'You better stay on top of that cutter. Try to stay on top.' And we're up 3-2, baby."
The five-hour, 17-minute contest trails only Game 3 of the Fall Classic in 2005, when the Astros fell to the White Sox, 7-5, in 14 innings in a five-hour, 41-minute game.
The Astros lead the best-of-seven Series, 3-2, and will send Justin Verlander to the mound in Game 6 at Dodger Stadium against Rich Hill on Tuesday night with a chance to give Houston its first World Series championship. Teams with a 3-2 lead in a best-of-seven World Series have gone on to win it 42 out of 62 times.
After the Astros wiped out deficits of 4-0, 7-4 and 8-7 with game-tying home runs, the Dodgers turned the tables on Houston by coming back from a 12-9 deficit in the ninth inning. Yasiel Puig hit a two-run homer off Astros reliever Chris Devenski, who was one strike away from ending the game when Chris Taylor shot an RBI single to center to tie it at 12.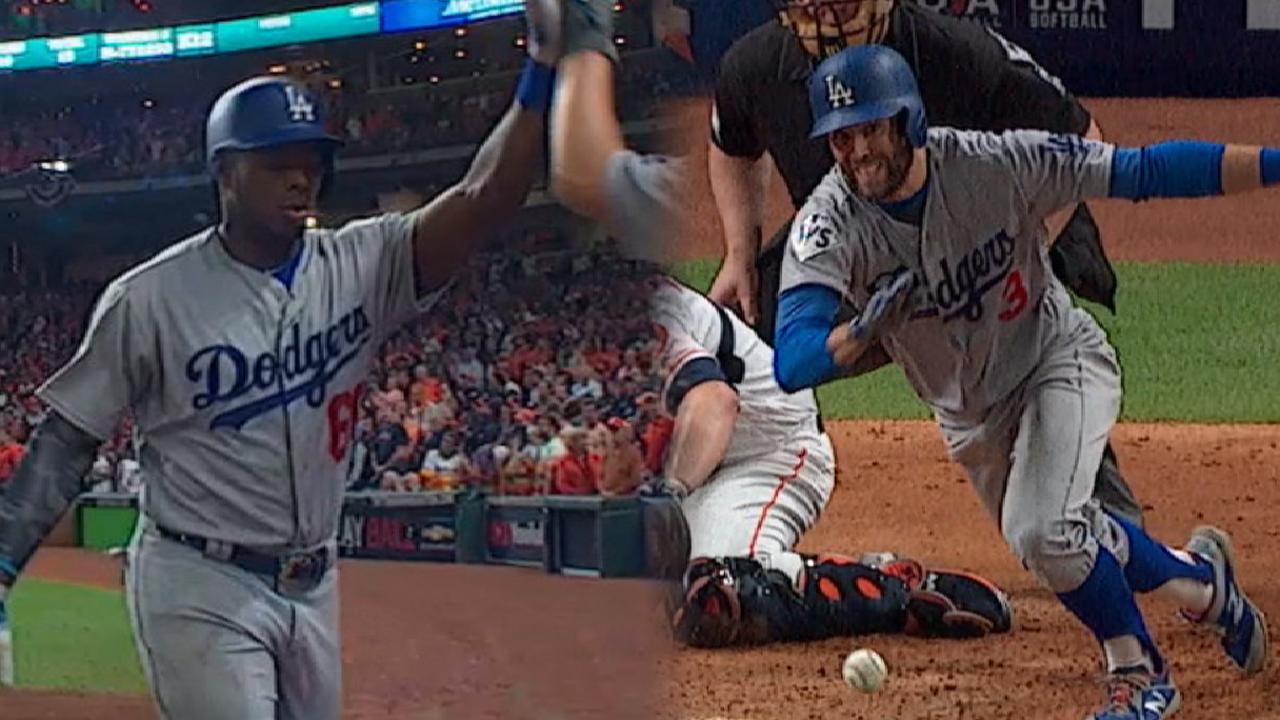 When Brian McCann went deep in the eighth to put Houston ahead, 12-9, it was the Astros' fifth homer of the game. McCann became the 14th different player to homer in the World Series, setting a record. The 22 homers in the World Series and 101 in the postseason set Major League records.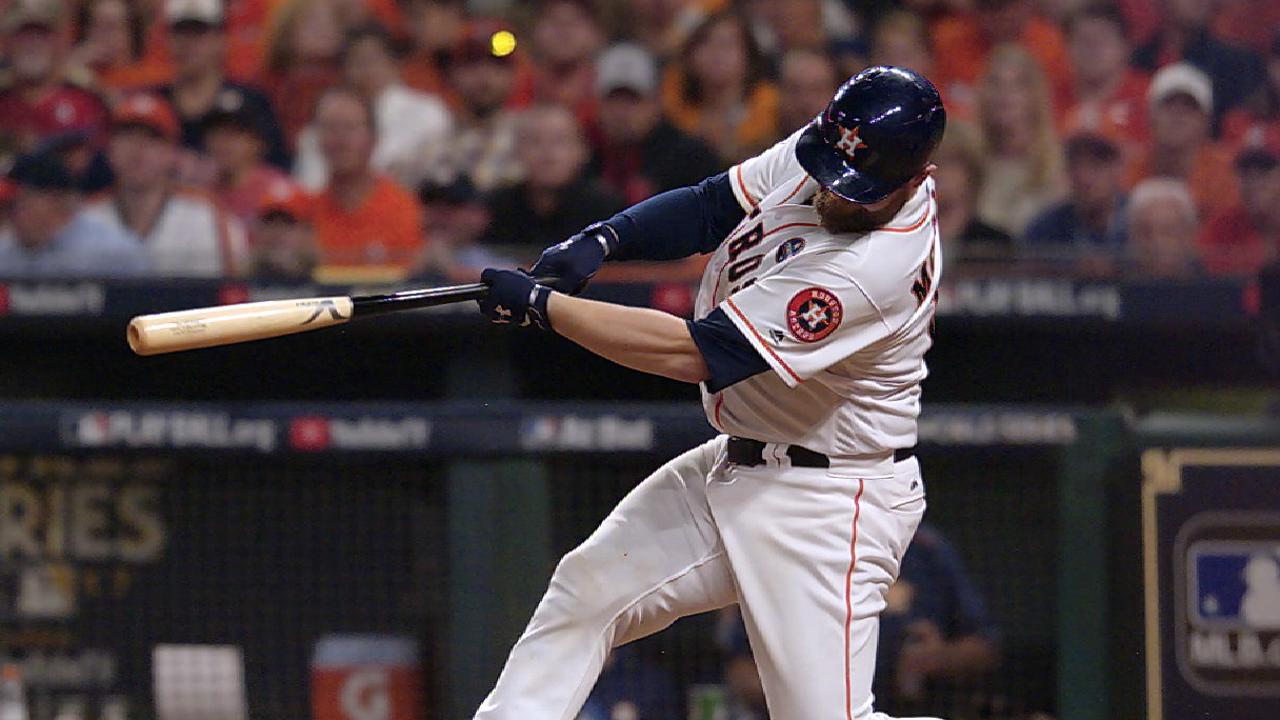 The Dodgers took an 8-7 lead in the seventh when George Springer dove in center for a sinking line drive off the bat of Cody Bellinger and allowed it to go under his glove and roll to the wall for a triple that scored Enrique Hernandez. But Springer atoned for the gaffe when he crushed the first pitch thrown by reliever Brandon Morrow in the bottom of the inning and hit a homer to left to tie the game.
The inning continued when Bregman singled and scored from first on a double by Jose Altuve to give the Astros their first lead, 9-8. Carlos Correa then hit a towering fly ball to left field that sneaked into the first rows of the Crawford Boxes for a two-run homer to put Houston ahead, 11-8.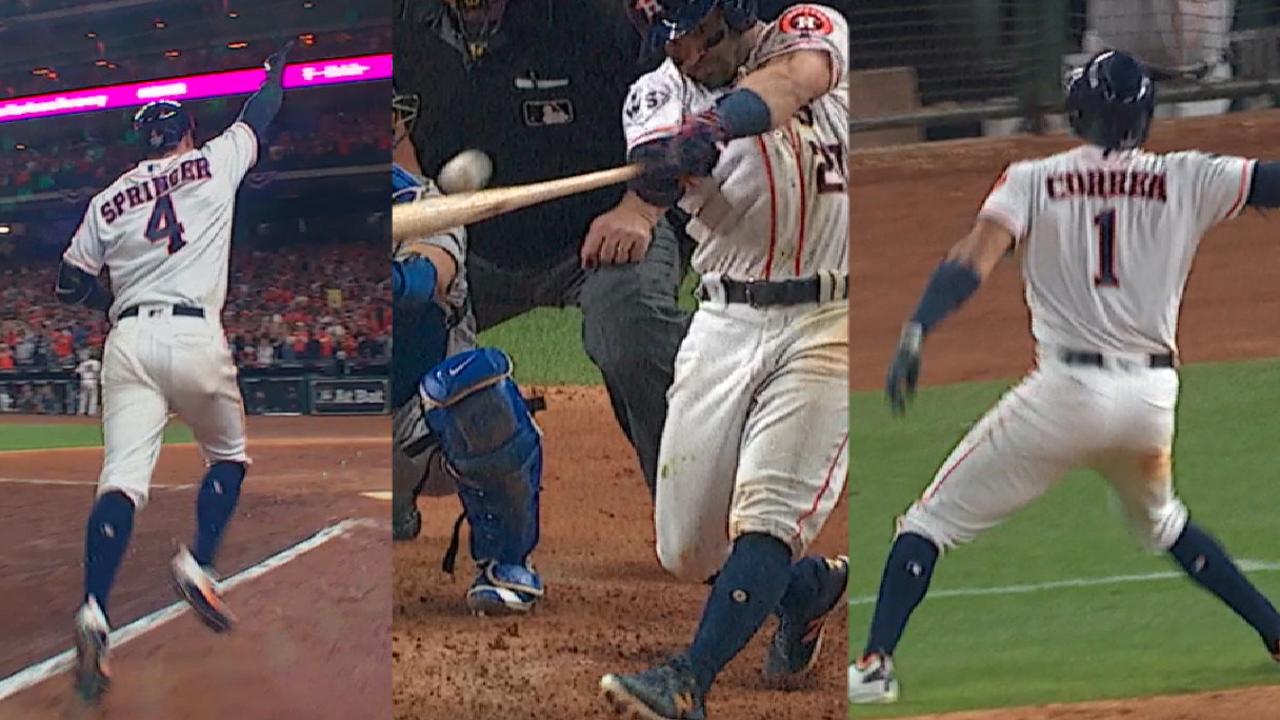 "This was crazier [thank Game 2]," Correa said. "It was back and forth. Nonstop. It was unbelievable. The best game ever, for sure. Emotions are really high right now. We have the lead in the Series and we need to go take it in L.A."
The Dodgers cut the lead to 11-9 in the eighth on an RBI double by Corey Seager, but reliever Will Harris got Justin Turner to line out and Devenski got Andre Ethier to ground out with runners on second and third to end the threat.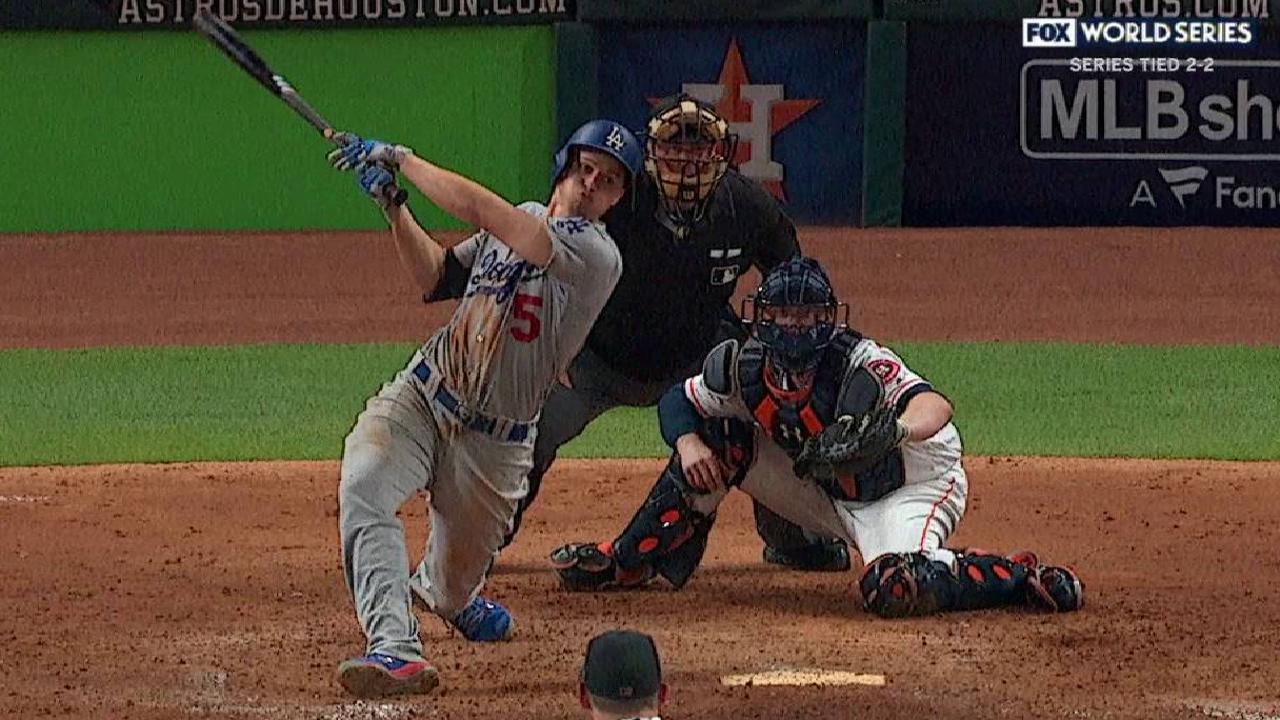 The Dodgers rocked Astros starter Dallas Keuchel for three runs in the first inning, including a two-run single by Logan Forsythe — Keuchel's teammate at the University of Arkansas. In the fourth, Austin Barnes' RBI single made it 4-0, a lead that seemed insurmountable. Kershaw's record in games in which he had a four-run lead at any point was 71-1 prior to Sunday.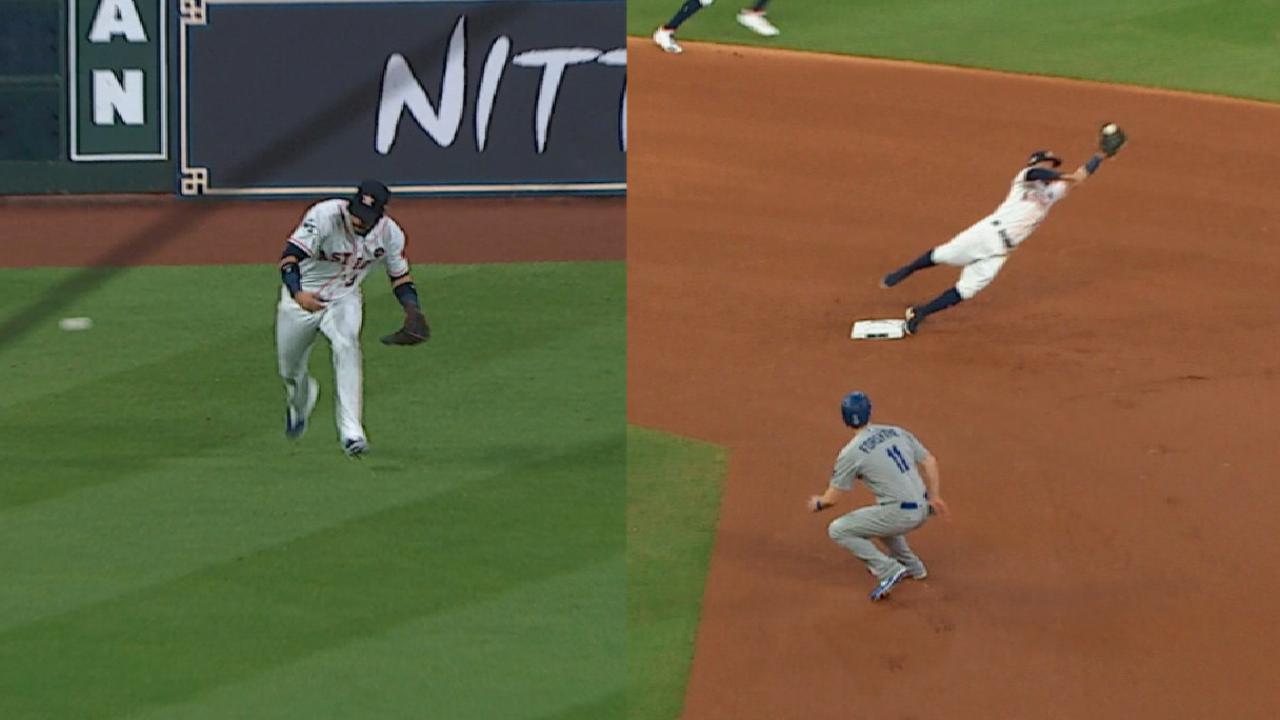 The Astros rallied in the bottom of the fourth, though. Kershaw walked Springer and allowed a one-out single to Altuve before Correa hit an RBI double to left to make it 4-1. Yuli Gurriel uncorked on the next pitch, rocketing it high over the left-field wall for a game-tying three-run homer that sent Minute Maid Park into a frenzy.
Collin McHugh, pitching for the first time in 13 days, took over in relief to start the fifth and walked the first two batters. He struck out Hernandez before Bellinger tagged a hanging breaking ball and sent a three-run homer into the right-field seats to put the Dodgers on top, 7-4. The Dodgers had new life … for now.
Kershaw was pulled after walking Springer and Bregman with two outs in the fifth. With the crowd breaking into its "M-V-P" chant, Altuve worked the count full against reliever Kenta Maeda. After hitting a long foul ball to left field, Altuve turned on a fastball and deposited it onto the home run porch in left-center to tie the game again, 7-7, with a three-run homer — Altuve's seventh homer of the postseason.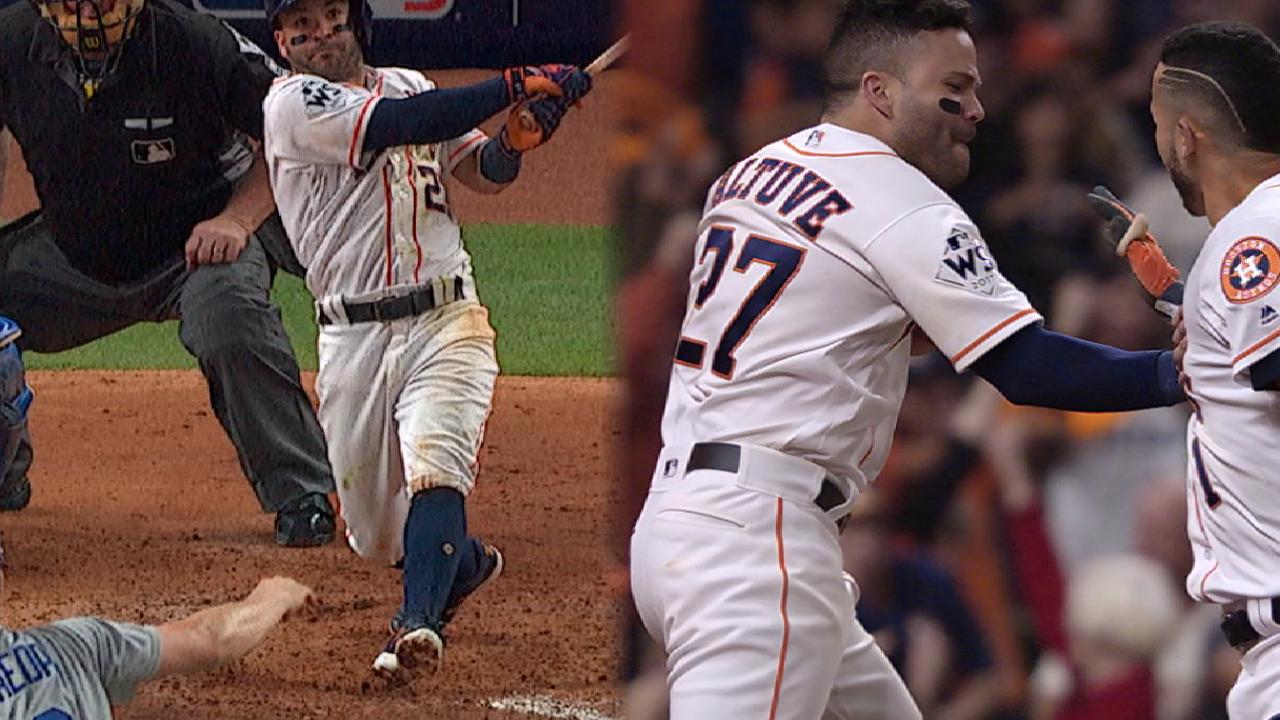 Kershaw allowed six runs and four hits in 4 2/3 innings, and Keuchel allowed four runs (three earned) and five hits in 3 2/3 innings.
"I'm sure everybody's pretty exhausted, emotionally and physically," Kershaw said. "It was a tough one. But you know what? We've still got a chance at this thing. We're going to go home and get ready to go. … I just lost my command a little bit there in the fourth inning and that's all it took."
MOMENTS THAT MATTERED
Yuli-ke that? Gurriel's second homer of the playoffs was a no-doubt blast to left field that Statcast™ projected at 389 feet, getting the Astros back in it against Kershaw and setting the tone for the classic back-and-forth nature of the game. For Gurriel, it was a big moment that came one day after he was suspended for five games at the start of next season for an inappropriate gesture he made in Game 3. For Kershaw, it was his Major League-record eighth homer allowed in the postseason.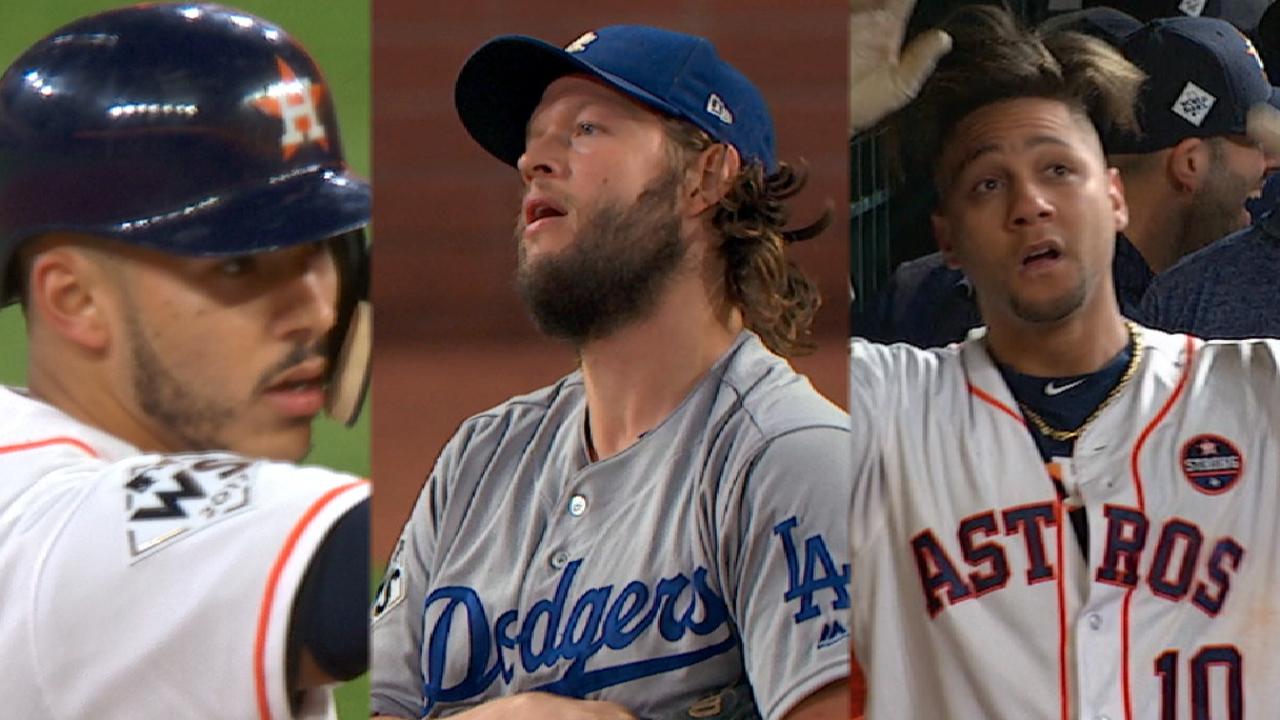 Bellinger blast: Bellinger, who had a go-ahead double in the ninth inning of the Dodgers' 6-2 win in Game 4, came through in the fifth, answering Gurriel's blast with a three-run homer of his own to put the Dodgers ahead, 7-4. Bellinger became the youngest player to homer in the World Series since Miguel Cabrera in 2003.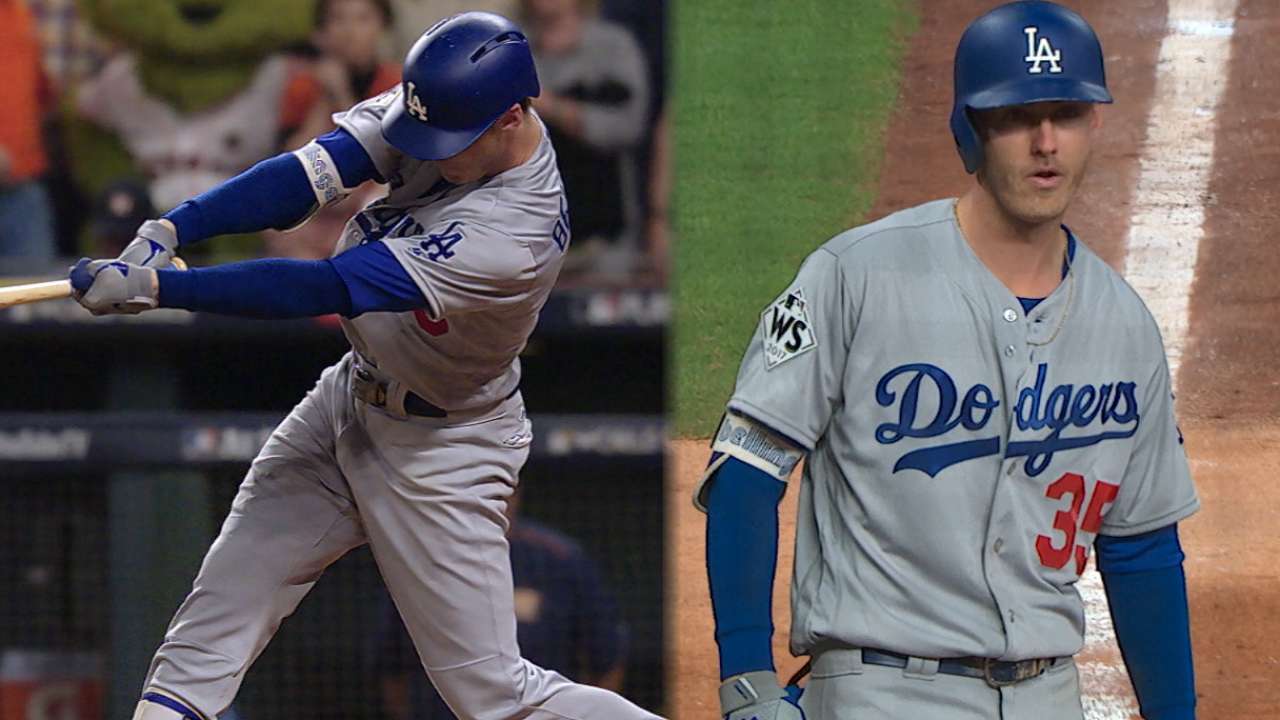 This story was not subject to the approval of Major League Baseball or its clubs.