Hinch said Giles, who has given up at least one run in six of seven postseason appearances, came into his office after the game seeking reassurance and encouragement.
"He's a big reason why we're here," Hinch said. "Right now, those words probably fall on deaf ears because of the struggles that he's had. He doesn't have to wear the burden of anything. He's doing his best to be prepared and come in and make pitches, and he's getting burned a couple of different times.
"Number one, there's no low-leverage inning in the playoffs, especially the World Series. Number two, there's so much that goes on during the World Series, it's unfair to pin games on the guy who makes the one pitch that breaks things open. I'll continue to encourage him and try to lift some of the burden of these games that's carrying with him, because he's every bit a reason why we're here."
Giles said postgame Saturday he simply needed to make better pitches.
"I need to be ready to go out there with a vengeance and be ready to go tomorrow," Giles said. "I'm going to pound that zone tomorrow. If it's just one out, I'm going to get that one out to get me on track."
Hinch's options to close the game likely depend on matchups. Luke Gregerson has yet to pitch in the World Series and Will Harris permitted an inherited runner to score in Game 4. Collin McHugh, a starter, hasn't pitched in the Fall Classic. Perhaps the most likely candidate is Chris Devenski, who threw a perfect eighth in Game 4.
• Dress for the World Series: Get Astros postseason gear
Hinch said he wanted to try to lift the end-of-the-game pressure off Giles for the time being.
"But I did tell him last night after the game that, you know, 'Look, I'm going to hand you the ball again in the series. I'm not sure when it is. I'm not sure you know what the situation will be,' but he wasn't surprised," Hinch said. "He understands, and he wants to be there for his teammates, he wants to be there for me, the coaches, and ultimately, he wants to win a World Series."
Hostile environment
Hinch said he expects first baseman Yuli Gurriel to receive a rough reception from the Dodger Stadium crowd when introduced prior to Tuesday's Game 6 of the World Series. Major League Baseball suspended Gurriel five games at the start of the 2018 season, and he issued an apology after he was caught on camera in the dugout of Friday's Game 3 making an inappropriate gesture after homering off Dodgers right-hander Yu Darvish.
"I don't think I need to talk to him about it," Hinch said. "I think everyone is aware it's going to be a rough setting for him. I don't think you can convince 55,000 fans to turn the page as fast as maybe the two teams have. And that goes out of support for their own players and their own people.
"But Yuli has got a good heart. He made a mistake. He'll pay for it, and I think that obviously in the looming suspension to come but also with the reaction in L.A., I'm sure will be on the aggressive side."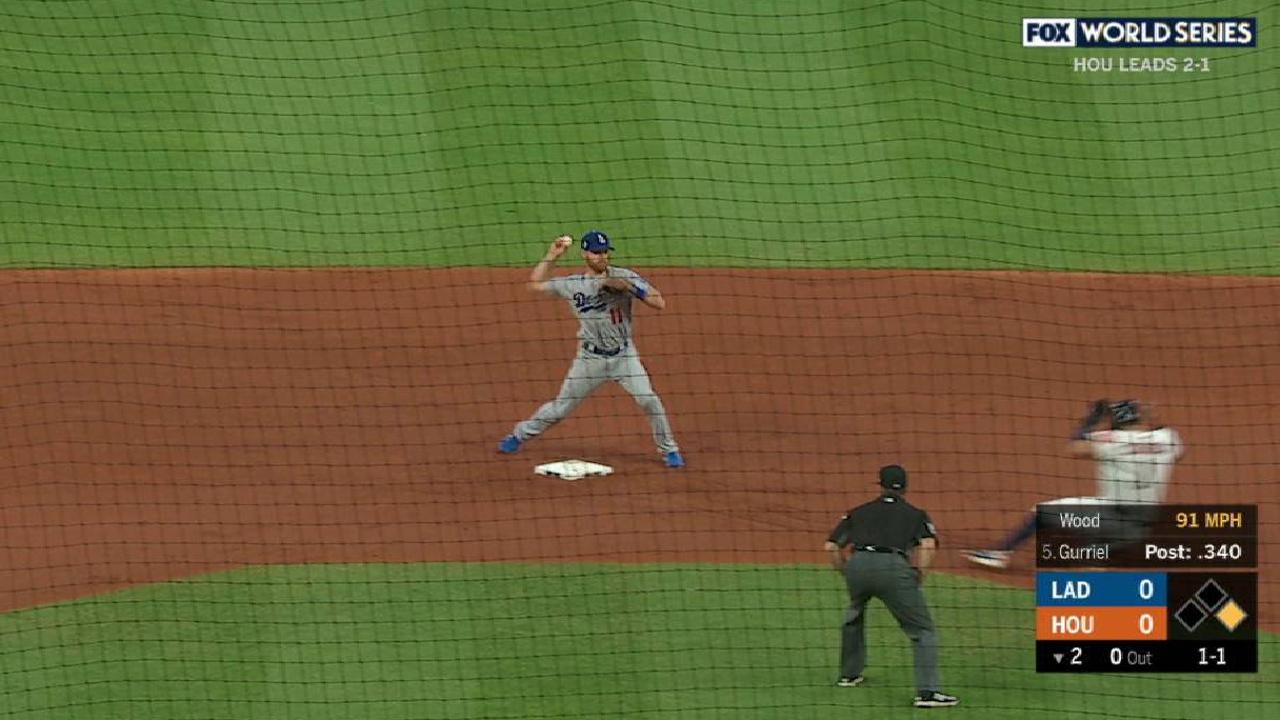 Gurriel went 2-for-5 with a homer and a double in Game 3 before going 0-for-3 in Saturday's Game 4. Hinch said he believes Gurriel was carrying the burden of the fallout from the episode.
"He's got a good heart, and he went through a lot of internal and external kind of circumstances, obviously," Hinch said. "He brought it on himself. I certainly think he was aware of the magnitude of what happened and genuinely felt bad. I think he's a human, and I think he cares a lot."
Brian McTaggart has covered the Astros since 2004, and for MLB.com since 2009. Follow @brianmctaggart on Twitter and listen to his podcast. This story was not subject to the approval of Major League Baseball or its clubs.