Game 5 of the National League Division Series, presented by T-Mobile, at Nationals Park was a whirlwind of a winner-take-all game, which began Thursday night and extended into the wee hours of Friday the 13th. So it made sense that it was bizarre with big home runs, frustrating errors and mistakes, starting pitchers coming out of the bullpen and pitchers extending themselves beyond normal limits.
• NLCS Game 1: Saturday, 8 p.m. ET/7 CT on TBS
Chicago outlasted Washington for a 9-8 victory and will continue to defend its World Series championship, advancing to the National League Championship Series for the third consecutive year. The Cubs head to Los Angeles for the NLCS, presented by Camping World, which begins Saturday night at Dodgers Stadium.
"This year was completely different," Addison Russell, who drove in four runs, told TBS after the Cubs' win. "Just winning the World Series and all, young guys having success. We've got a great clubhouse, and we continue to work. But our opponents have been really hard to beat, and that's a great ballclub that we just beat. Kudos to them for coming this far, and I'm happy to be on this side with the Cubbies."
The Cubs needed seven pitchers to get through this game, starting with four innings from Kyle Hendricks and ending with a seven-out save from Wade Davis, who struck out Jayson Werth and Bryce Harper in the ninth to end it.
"I was just trying not to give in to any of those guys," Davis told TBS. "Those are game-changing-type hitters with a lot of power, and you would rather get them on first then give up homers. I was just trying to not give in to them and keep making pitches."
Chicago rallied for four runs in the fifth against Max Scherzer and scratched across runs on groundouts, errors, hit by pitches and missed line drives.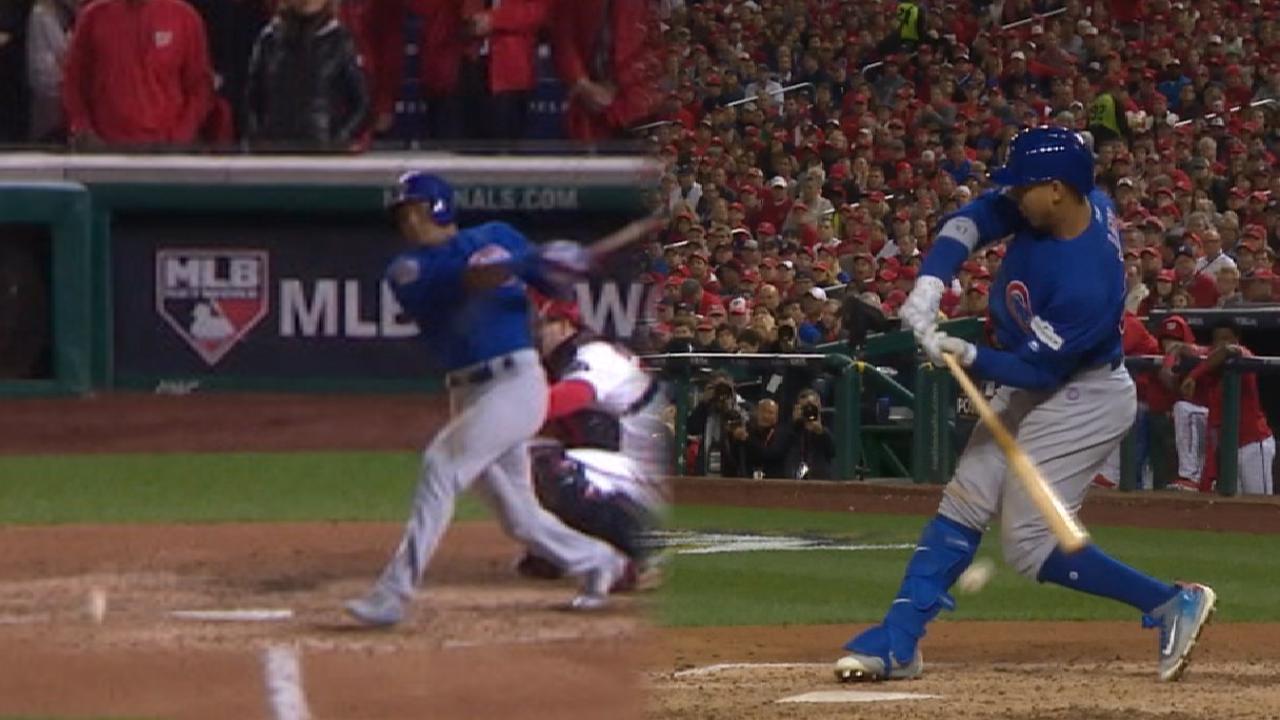 Three times the Nationals had reached the postseason, and three times it ended in heartbreak. They believed this year was different. This was their deepest team, their most talented. They had learned from past experiences. The end result was the same in the most heartbreaking and cruel way.
Nationals Park had played host to two of these Game 5s in the past, and after the club hosted a Haunted Pep Rally here earlier in the season, it was as if they were ready to confront those old demons. They even tabbed Gio Gonzalez to start Thursday night, five years to the day he started Game 5 of the 2012 NLDS at Nationals Park.
But in the end the Nationals are going home sooner than they had hoped, another first-round exit, which spoils a 97-win season and their fourth NL East title in six years.
MOMENTS THAT MATTERED
Taylor does it again: Michael A. Taylor received the loudest cheers of the night during pregame introductions for his grand-slam heroics in Game 4. And on his first at-bat of Game 5, Taylor tomahawked a three-run home run into the stands in left field, and the reception was even louder. The pitch from Hendricks was 4.06 feet above home plate, the second-highest pitch hit for a home run by anyone in the postseason since Statcast™ began tracking in 2015. Taylor drove in a franchise-record eight runs during this NLDS. It capped a four-run third inning for the Nationals in which they sent nine batters to the plate, starting with a solo home run from Daniel Murphy.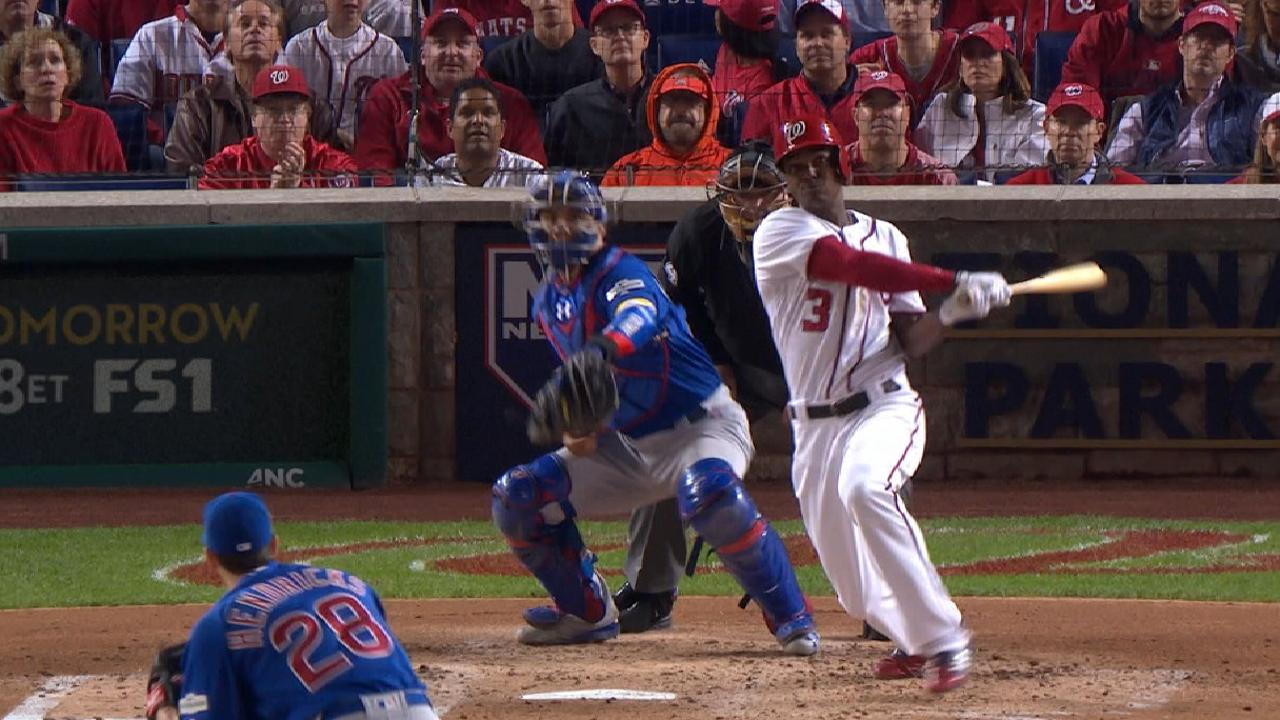 Cubs rally against Scherzer: The Nationals had control of the game and called upon Scherzer, their ace and NL Cy Young Award favorite, out of the bullpen. They were hoping to get two innings from Scherzer, and he came out pumping fastballs in the upper 90s to retire the first two batters, Kris Bryant and Anthony Rizzo, with ease. Then the Cubs put together an unlikely rally, as seven consecutive hitters reached base.
Here's how the Cubs' fifth-inning rally looked: an infield single, a bloop single, a two-run double from Russell down the third-base line, an intentional walk, a dropped third strike that turned into a passed ball and a throwing error to score another run, a catcher's interference, a hit batter to score another run before Bryant popped out to short to end the inning.
Handing the ball to Davis: The Nationals did not go quietly, as they rallied in the seventh inning. Carl Edwards Jr. began the inning with a leadoff walk, which promoted the Cubs to bring in Jose Quintana for his first relief appearance since 2012. Quintana got an out, then gave up a single and a walk to bring up Harper with the bases loaded. Harper drove in a run on a sacrifice fly and Maddon turned to his closer, Davis, in the seventh. Davis struck out Ryan Zimmerman to end the inning.
Davis threw 44 pitches to close it out, the last of which was thrown to strike out Harper in the ninth.
This story was not subject to the approval of Major League Baseball or its clubs.