No bullpen in the postseason has been used as prominently as that of the National League champion Dodgers, and no single reliever has been called on more than Morrow, who accounted for four crucial outs in the Dodgers' 6-2 win on Saturday in Game 4 that tied the World Series, 2-2.
Morrow has pitched in all four World Series games over the past five days — the first time he's done that all season — and, if needed, he'll be called on again tonight in Game 5.
"He's available," Dodgers manager Dave Roberts said emphatically after Game 4. "You look at how we match up and use our 'pen, and to have bridge guys to get to the big man at the back end is imperative."
• Dress for the World Series: Get Dodgers postseason gear
The "big man" to whom Roberts was referring is Kenley Jansen. But even the closer's well-documented workload hasn't matched that of Morrow, whose appearance in the sixth inning of Game 4 was his 11th of the postseason. Jansen's ninth-inning work marked his 10th.
"Brandon Morrow did a great job," Jansen said. "Man, he's taken a lot of load [off] us this year."
It's been that way for most of the time Morrow has been with the Dodgers. A non-roster invitee to Spring Training this year, Morrow made his first appearance for the Dodgers on May 29. With past injury issues seemingly behind him, Morrow didn't allow a run until his 13th appearance of the season, on July 4 in Arizona.
Months later, no Dodgers pitcher with double-digit innings this postseason has a lower ERA. In 12 1/3 innings, Morrow has allowed two earned runs for a 1.46 ERA.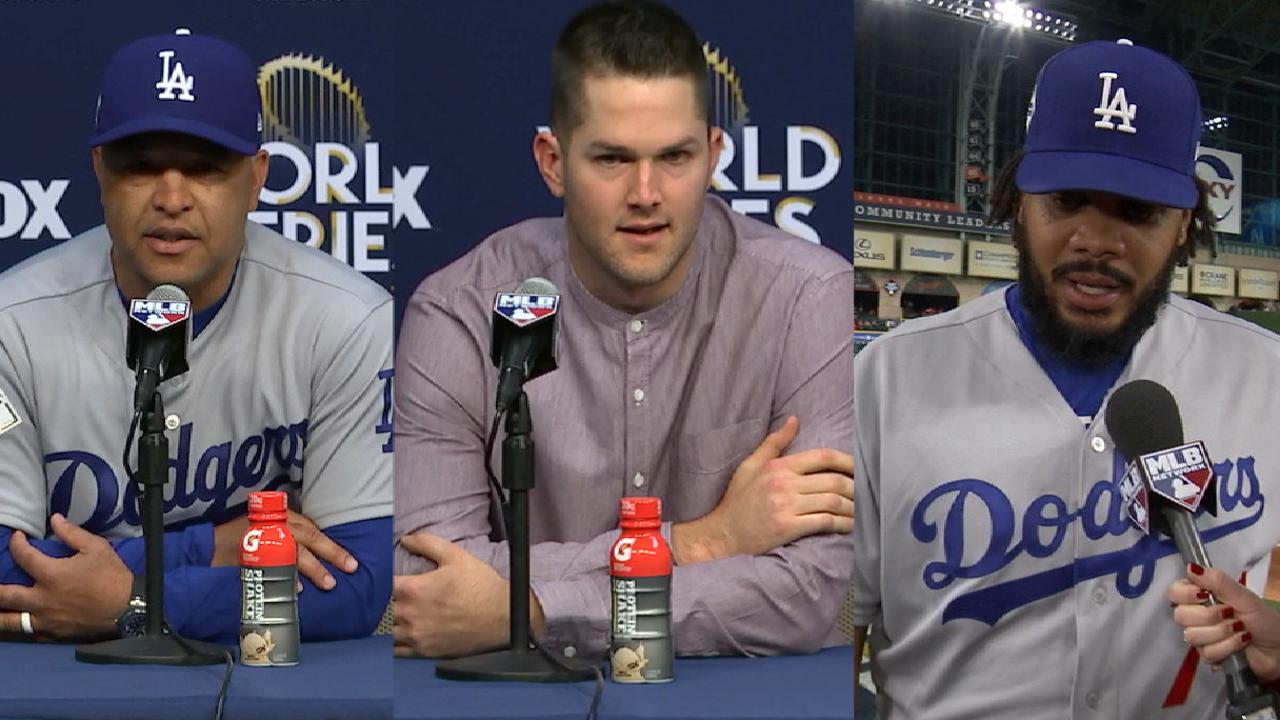 "It's just great to be a part of it," he said. "I joined the team kind of right at the very beginning of the real hot streak we got on in the middle of the summer.
"It felt like that throughout the whole postseason, even the last two games, getting down two games to one. I don't think that the feeling changed from the guys in here. The feeling has been awesome throughout the whole thing. I'm just glad to be contributing and working my way up the ladder in the bullpen."
Had Wood not taken a no-hitter into the sixth inning, it's likely Morrow would have been the one to face Houston leadoff hitter George Springer. Instead, Morrow was summoned immediately after Springer's solo homer sailed into the seats in left field.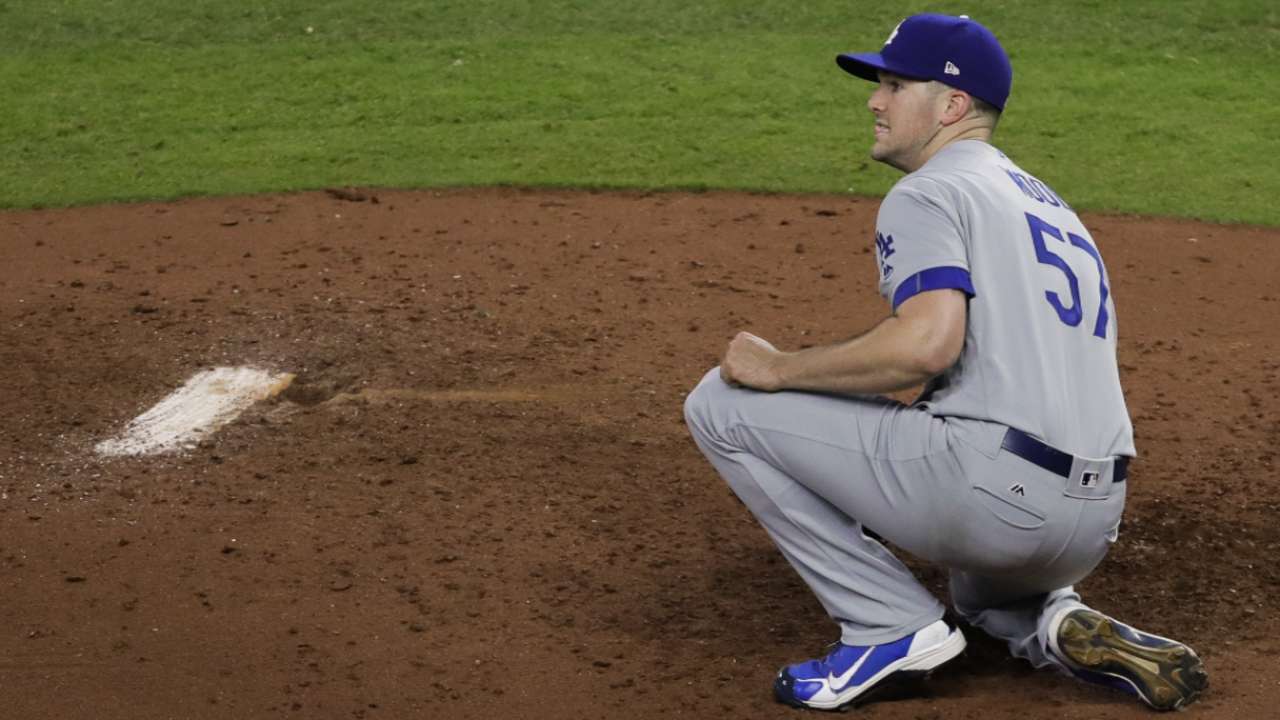 Morrow needed 14 pitches to retire four Houston hitters.
"The innings that B-Mo and [Tony Watson] gave us were obviously huge to allow us to get to Kenley," Roberts said. "So if those guys can't do their job, it just doesn't work. A credit to all those guys."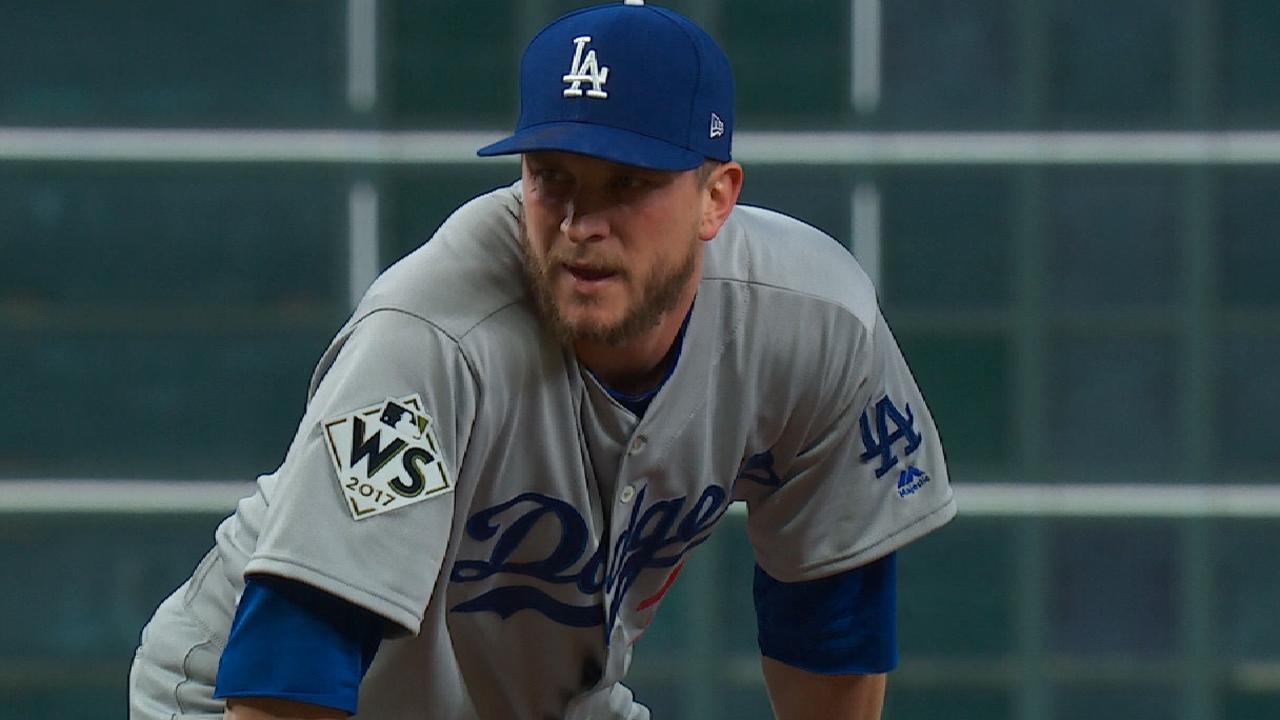 Given the length of the postseason, fatigue is a popular topic this time of year. It's widely understood that if a player says he's not tired, he's probably not being completely forthright. It's also understood that none of that matters when trying to win a championship title.
Perhaps Morrow is a little fatigued from all the extra work. It's also something he'll address next week, when the World Series is over.
In Game 5, he'll hope to get the ball, again.
"I think the adrenaline will take you as far as you need to go," he said. "There's no 'tired' in the postseason. I've come to experience that every time out. You feel good, because you're in the moment."
Alyson Footer is a national correspondent for MLB.com. Follow her on Twitter @alysonfooter. This story was not subject to the approval of Major League Baseball or its clubs.