After recently spending 10 days on the DL, Pedroia was activated on Tuesday and served as the designated hitter that night at Tropicana Field, going 0-for-4. But he was out of the lineup on Wednesday and was still sore after a team off-day on Thursday.
"Our goal was to get him some at-bats before this series," said Red Sox manager John Farrell. "He's shown that there's been a little bit of a pushback in terms of the reaction to it. Some swelling, some inflammation, so we're holding him out today."
Pedroia had left knee surgery at the end of last season. He began having trouble with it again after a collision with Manny Machado on April 21 in Baltimore.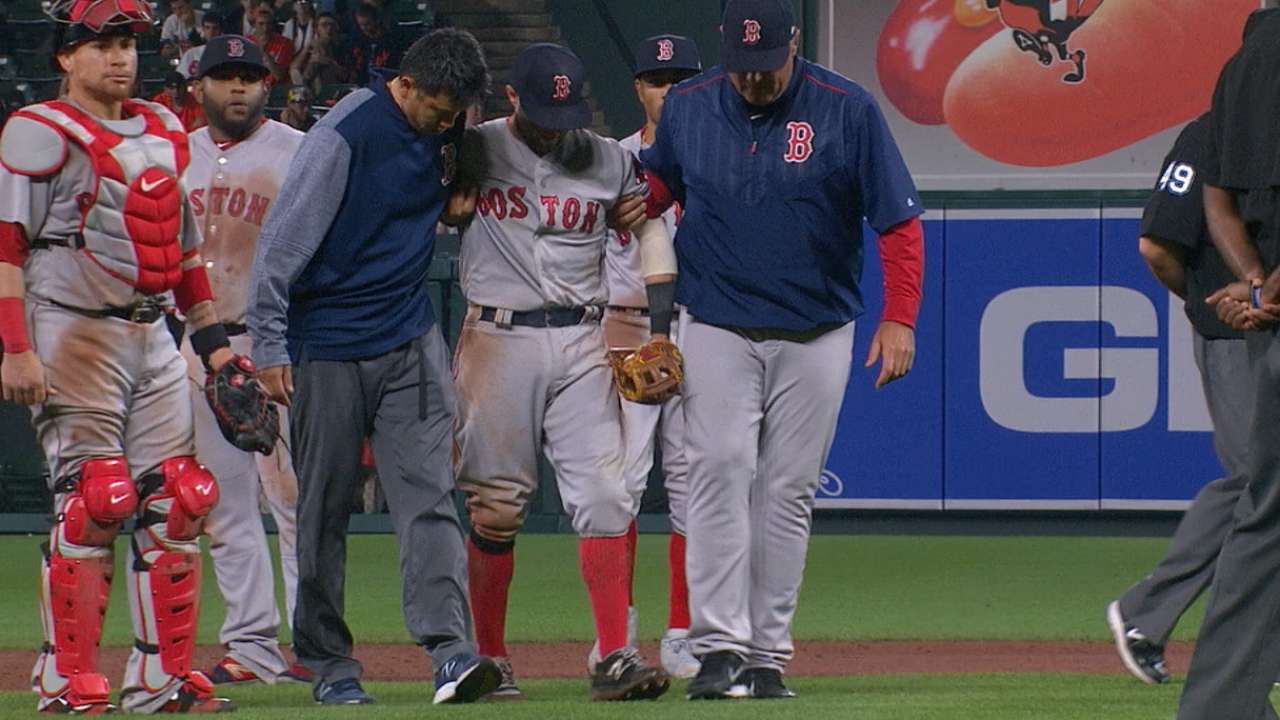 At this point, the Red Sox are confident that the injury is not a season-ender.
"But we've got to continue to get some work done to get back to where he feels he's able to endure day to day, and we're not quite there yet," said Farrell. "We know he's dealing with a cartilage issue. More importantly for Pedey is to get as much information to him as we can, to just allow him to get his arms around this further."
Worth noting
• Left-hander David Price had a productive work day on Friday, playing long toss out to 120 feet. Price has been on the disabled list since July 28 with left elbow inflammation.
"Afterwards, he came in and spun some breaking balls," said Farrell. "That was the goal, the design for today. Since his placement on the DL, today was his best throwing day yet. So we'll see how he comes in tomorrow and that would determine what the throwing program would be next."
• Sidewinder Carson Smith will make the third appearance of his rehab assignment on Saturday for Triple-A Pawtucket, as he continues his comeback from Tommy John surgery. The addition of Smith would give the Red Sox even more depth in a bullpen that already has a solid setup crew of Addison Reed, Joe Kelly, Matt Barnes and Heath Hembree.
"He's come out of it feeling fine as far as his arm goes. I think more than anything he's getting back into pitching shape, so there's going to be some general soreness that he hasn't experienced," said Farrell. "He hasn't pitched in a game in a year and a half. We're going to need the rehab time here to get him back in full swing."
Ian Browne has covered the Red Sox for MLB.com since 2002. Follow him on Twitter @IanMBrowne and Facebook. This story was not subject to the approval of Major League Baseball or its clubs.