"We just ask for prayers that it's not serious," manager Dusty Baker said. "We're just urging everybody out there that are Nationals fans and baseball fans to say a prayer for him tonight, because he was in obvious pain out there. We're just hoping for the best."
Harper tried to beat out an infield grounder in the first, when he hit the bag at first awkwardly. As his left foot made contact with the bag, it slipped over the top and his leg appeared to buckle as he fell to the ground past the base, grabbing his leg by the knee.
It left the fans who waited out a three-hour rain delay nearly silent, as Harper stayed on the ground in obvious pain with team athletic trainers and coaches coming out to check on him, before carrying him off the field. Andrew Stevenson replaced Harper and took over in center field, while Brian Goodwin shifted to right.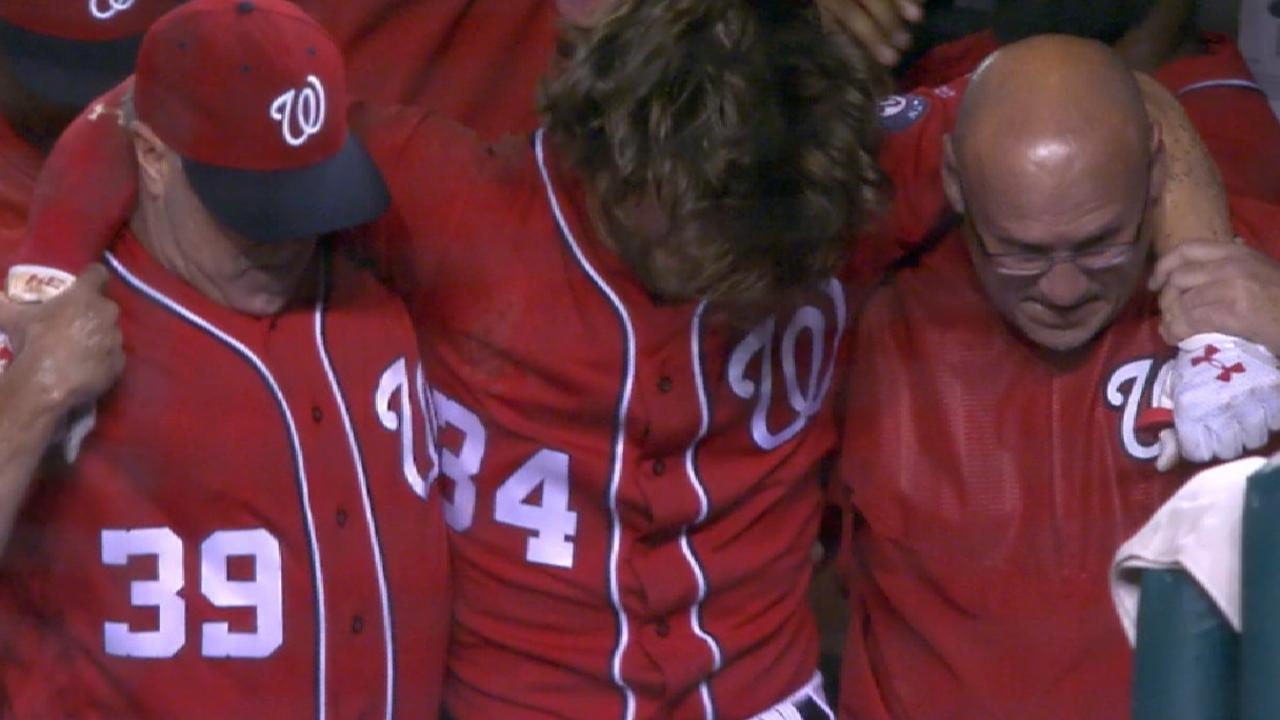 "The top of the bases were wet obviously from the rain," Giants first baseman Ryder Jones said. "It looked like we were about to collide because [Jeff] Samardzija was kind of right there, too. Just a freak accident."
A potential serious injury to Harper could perhaps change the complexion of the Nationals' season for a team with World Series aspirations.
Harper is having a terrific 2017 campaign, putting him in the mix to win the National League Most Valuable Player Award for the second time in three years. Harper is batting .326/.419/.614 with 29 home runs and a 1.033 OPS. He has been worth 5.0 Wins Above Replacement, according to Fangraphs, which is fifth best in MLB.
The Nationals have used 12 different outfielders this season and are already thin on depth. They are without two-thirds of their starting outfield from Opening Day — center fielder Adam Eaton is out for the season with a torn ACL, and his replacement, Michael Taylor, is on the DL with an oblique injury (although he is currently on a Minor League rehab assignment); left fielder Jayson Werth is on the DL with a left foot contusion, although he did some running on the field prior to Saturday's game and could begin a Minor League rehab assignment within the next week or two.
Washington could receive a boost to the top of its lineup soon with shortstop Trea Turner progressing from the fracture in his right wrist. Turner's symptoms are gone, but he still has not been cleared to swing a bat, although he has been fielding grounders at shortstop and making throws to first base recently.
But the absence of Harper could leave the Nationals, and MLB, without one of its most dynamic and exciting players.
"When you see a caliber of player like that, or any player, go down like that, you hope for the best," right-hander Edwin Jackson said. "He's definitely one of those guys that you can't replace on a team. It's crazy, but it's definitely great to see him up in spirit and walking around."
Jamal Collier covers the Nationals for MLB.com. Follow him on Twitter at @jamalcollier. This story was not subject to the approval of Major League Baseball or its clubs.