But Yankees manager Joe Girardi's gamble paid off. For the second time in four days, Chapman went more than one inning to nail down the game, this one part of a decisive 5-2 win over the Indians in Game 5 of the AL Division Series presented by Doosan.
• ALCS Game 1: Friday, 8 p.m. ET on FS1
"I imagined there was going to be a chance that they would need me for two innings," Chapman said through his interpreter. "I prepared myself mentally and physically for that, for the job at hand."
Chapman fired two scoreless innings, striking out four Indians in a dominant performance that sealed the Yanks' passage to the ALCS. The flamethrowing closer combined with David Robertson to hold Cleveland hitless for the game's final 4 2/3 innings, allowing New York's offense enough time to break away.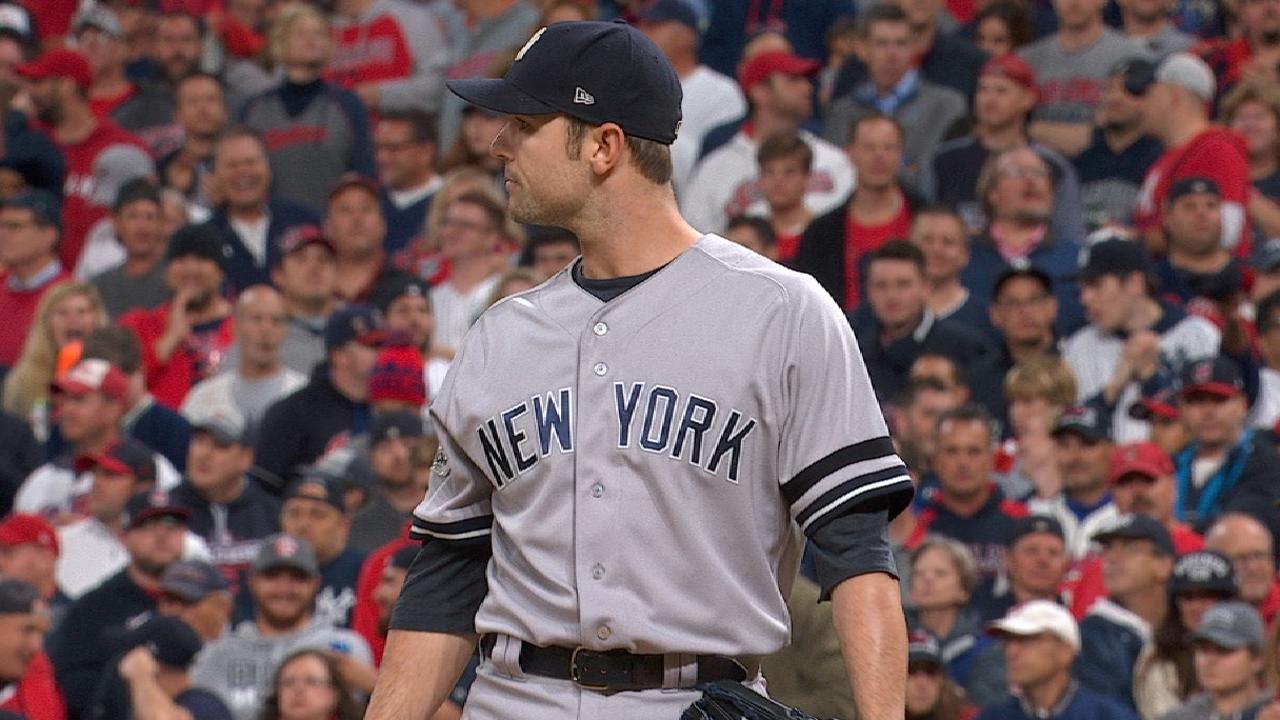 "We did what we were supposed to do, which is hold the lead," Robertson said. "It was tough tonight, they are a resilient team. You have to just try to not make mistakes against them. Chapman did an amazing job throwing two innings right there. He had to go through the heart of the lineup to end it.
"That's what he does. He's got electric stuff, and when you've got electric stuff, you can get through those innings."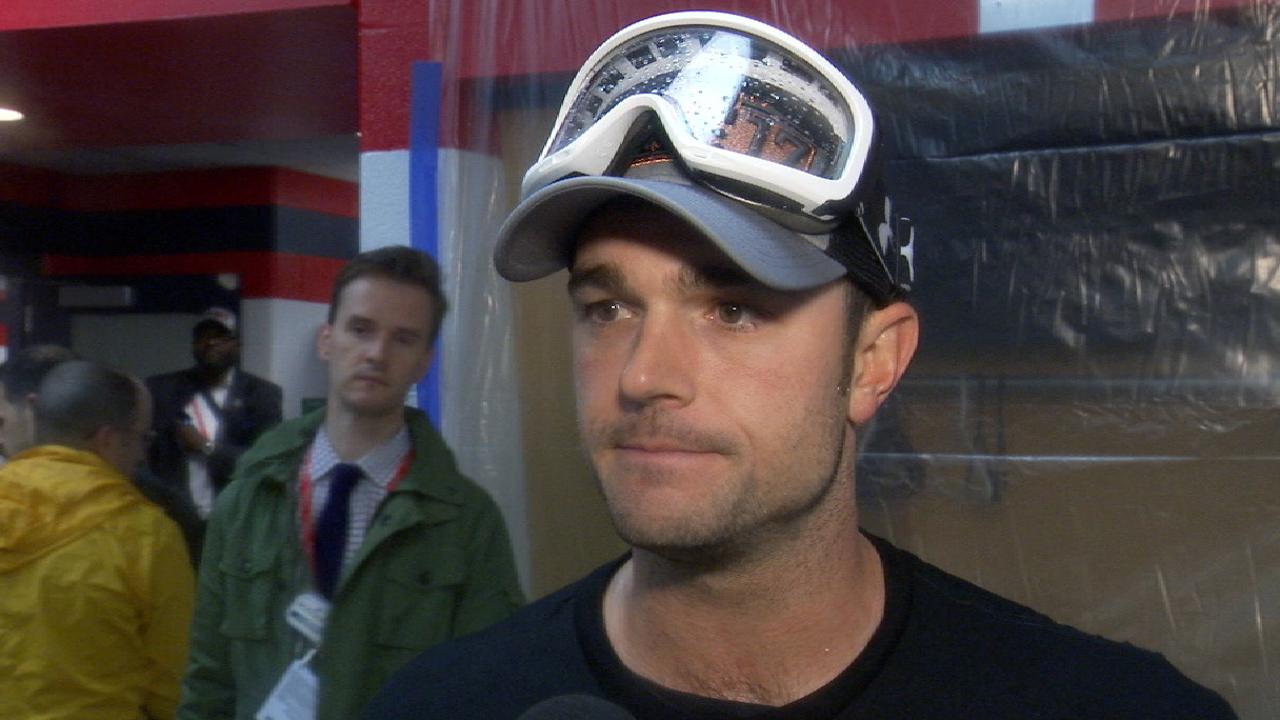 Chapman needed 13 pitches to dispose of the Indians in the eighth, ending the frame with a 102-mph fastball that sent Jason Kipnis down swinging. He then sat more than 30 minutes, as the Yankees scored twice on Brett Gardner's single, which capped a 12-pitch at-bat, in the ninth.
"I kept moving around the dugout," Chapman said. "I went down and threw a couple of balls to a net. That's what you've got to do, stay loose and stay warm."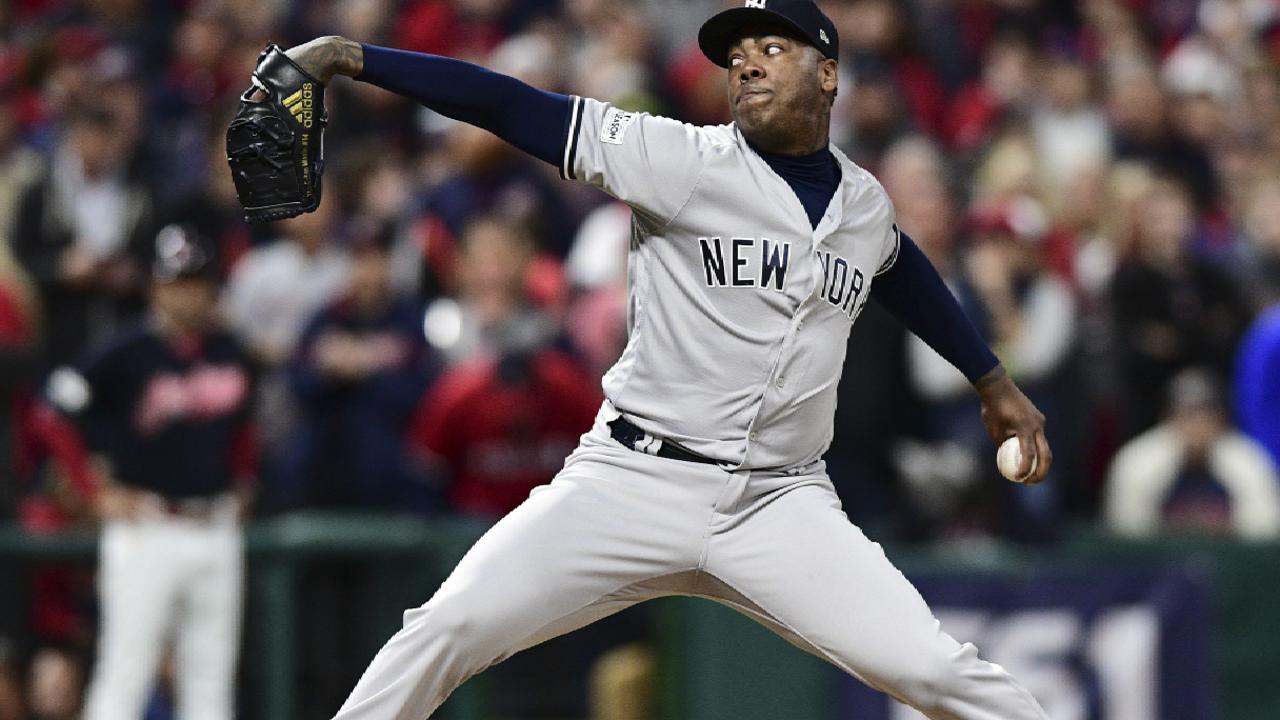 Chapman kept bringing the heat in the bottom of the ninth. After a leadoff walk to Jose Ramirez, he struck out Edwin Encarnacion looking with a 101-mph fastball. After Carlos Santana then bounced into a force out, Chapman struck out Austin Jackson looking to seal the series.
"Chappy wants to win. Chappy's a winner, and that's why we went out and got him again, because we knew that he was really, really good at what he did," Girardi said. "And he has obviously pitched in the World Series [last year with the Cubs] and loves the competition. I mean, his innings were great this whole series."
Including the Yanks' AL Wild Card Game win over the Twins, Chapman has 13 strikeouts over 6 2/3 scoreless innings this postseason. On Wednesday, the flamethrowing lefty became the first reliever to record a save of at least two scoreless innings in a Division Series clincher since the Mets' Jeurys Familia in Game 5 of the 2015 National League Division Series. The Yankees will need Chapman and the rest of the bullpen to stay hot with the Astros' impressive bats up next.
"It's incredible. The best I've ever seen," Yankee starter CC Sabathia said of the bullpen. "We got four or five closers down there. We have a lot of confidence they're going to get the job done."
Brittany Ghiroli has worked for MLB.com since 2010. This story was not subject to the approval of Major League Baseball or its clubs.