• Dress for ALCS: Get Yankees' postseason gear
That mystique has returned, folks. With a convincing comeback in the best-of-five AL Division Series presented by Doosan, capped by a 5-2 win that once again brought the sting of silence to Progressive Field, the Yankees left no doubt that they are a force again. They are headed to the AL Championship Series presented by Camping World having just left the 102-win Indians — a team that a month ago completed the game's longest winning streak in more than a century — with nothing more than a wild story to tell.
• ALCS Game 1: Friday, 8 p.m. ET on FS1
Like it or not, Rest of the Baseball World, and look out, Houston, because the so-called "Evil Empire" has struck back.
"That's the goal," CC Sabathia said. "To turn back into our old selves and win championships."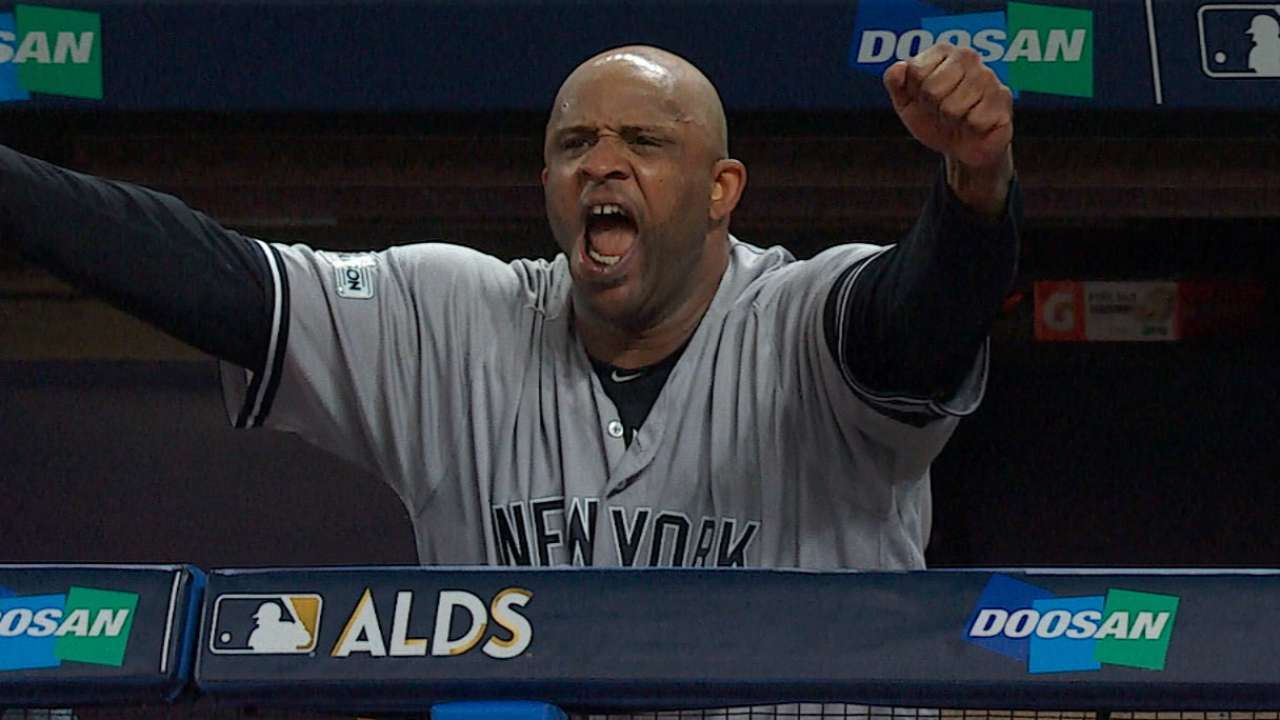 Sabathia looked like his old self when he just plain outpitched the formerly un-outpitchable Corey Kluber for the second time this series. How's that for devastation distribution? To folks here, Sabathia once stood as a perfect representative of how the assembly line operates, how a franchise like the Indians can feel like a farm system, pumping out quality players until they near their free-agent eligibility and eventually become pinstripe property. It's a gross generalization, but in CC's case, it proved to be the $161 million reality back in 2008.
In this series, though, the Indians were expected to be the ones with the upper hand. CC is older, Kluber is better, etc., etc.
Didn't work that way, did it?
After getting the nod from manager Joe Girardi, who in a matter of days morphed from easy scapegoat to champagne-soaked skipper, Sabathia turned back the clock … albeit not to those October 2007 dates when he couldn't get the Indians over the ALCS hump. On this night, it was a sharp CC and a power-prone Didi (Gregorius, that is) drowning the Indians in alphabet soup.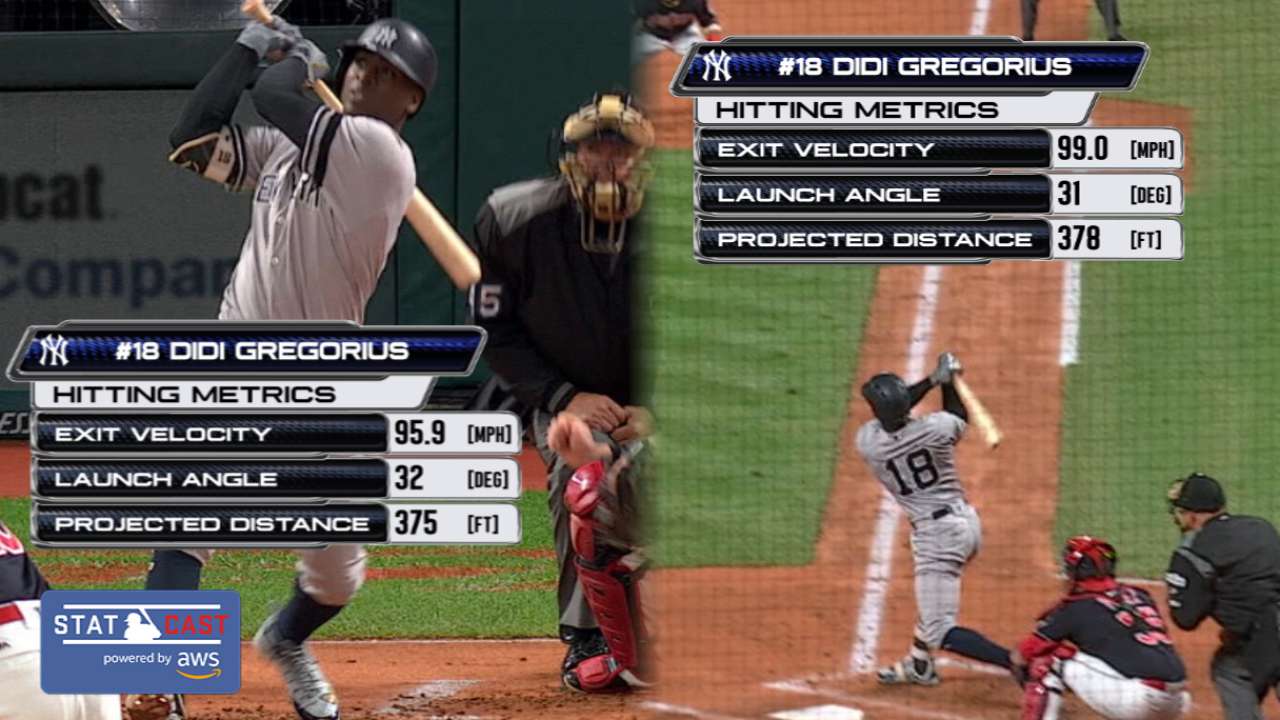 Remember when these results were routine? Players fending off Father Time with the age-defying power of the pinstripes? Here we are again. And because the Yankees' Opening Day roster seemed to be too loaded with guys either past their prime or too far in front of their prime, it was legitimately hard to see this coming.
| Game | Date | Time | Matchup | TV |
| --- | --- | --- | --- | --- |
| Gm 1 | Oct. 13 | 8 p.m. | NYY @ HOU | FS1 |
| Gm 2 | Oct. 14 | 4 p.m. | NYY @ HOU | FOX |
| Gm 3 | Oct. 16 | 8 p.m. | HOU @ NYY | FS1 |
| Gm 4 | Oct. 17 | TBD | HOU @ NYY | FOX/FS1 |
| *Gm 5 | Oct. 18 | TBD | HOU @ NYY | FOX/FS1 |
| *Gm 6 | Oct. 20 | TBD | NYY @ HOU | FOX/FS1 |
| *Gm 7 | Oct. 21 | TBD | NYY @ HOU | FOX/FS1 |
"It's funny, because when the season started, nobody expected us to do anything," Gregorius said. "But we always believed in ourselves. We were always confident. We trusted each other."
The "babies" are the backbone of these reborn Bronx Bombers. Gregorius, in his age-27 season, is too old and experienced to qualify, but he's only now coming into his own as a three-hole-batting, clutch-hit-collecting stud. Watching a Yankees shortstop come up huge with two homers on the season's biggest stage, you couldn't help but wonder if Gregorius is now on a career trajectory that will one day have him purchasing the Marlins.
And Gregorius is far from the most celebrated of the younger Yankees. There's Aaron Judge, of course, who might have emerged as Mr. OcKtober by striking out 16 times in 20 at-bats in this series but who will obviously remain a focal point of opponents' game plans in the days — and seasons — ahead. There's Gary Sanchez and Greg Bird (the homer hero in Game 3) and Luis Severino, too. These are the guys who made the "rebuild" process — which of course included last year's trade of Andrew Miller to the team the Yanks would beat in the playoffs just 14 months later — laughably brief.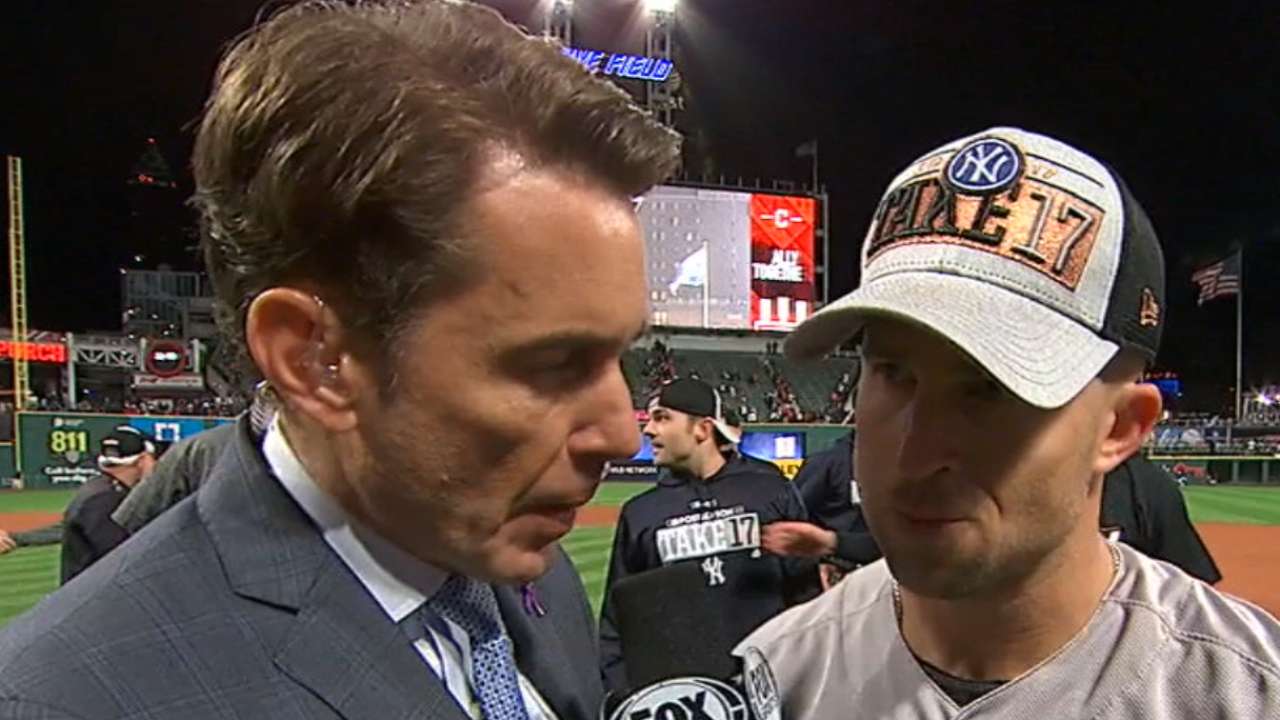 And thanks to New York's midseason splurge on a bullpen boost, if you let these Yankees get a lead on you, you've got to contend with the strikeout stuff of David Robertson, Tommy Kahnle, Chad Green, et al. This is not an overachieving, ahead-of-schedule squad. This is a powerhouse.
"There's a reason why they are where they are," Tribe manager Terry Francona said. "They are pretty good. They might have got better quicker than people thought, but I had a feeling they must have felt like they [were close]. When they gave [Aroldis] Chapman all that money [last offseason], they must have thought that they were coming."
After Chapman's six-out save in the ALDS clincher, here they are. It was one thing when they dispatched a Twins team that always seemed over its skis in the AL Wild Card Game. But now they just took down true AL elite. Which can only mean they now wear the label, too, just like old times.
Anthony Castrovince has been a reporter for MLB.com since 2004. Read his columns and follow him on Twitter at @Castrovince. This story was not subject to the approval of Major League Baseball or its clubs.